This weekend as Israelis and Palestinians clashed again in Gaza, and it seemed like everyone had a reaction to the violence.
As I consumed the popular media, I began to think about the more pedestrian views out there. It is important to understand what the everyman thinks, even if one does not agree with him or her (and I certainly do not agree with many of the opinions out there). After all, it is only by understanding others' points of view that we will ever get ourselves out of these international confrontations. Peace comes when people understand and interact with one another.
A great place to get at peoples' opinions is the popular new communication tool: Twitter. Twitter allows users to post messages, opinions, and thoughts 140 characters at a time. Each post is a tiny glance at a person's thought. If you're not a member yet, you should give Twitter a try. It's quite fun and addictive.
So, as I set out to glance at what people were saying about the situation in the Middle East via Twitter, I decided to build a tool that would help with this task. And so I did just that, with TwiddleEast.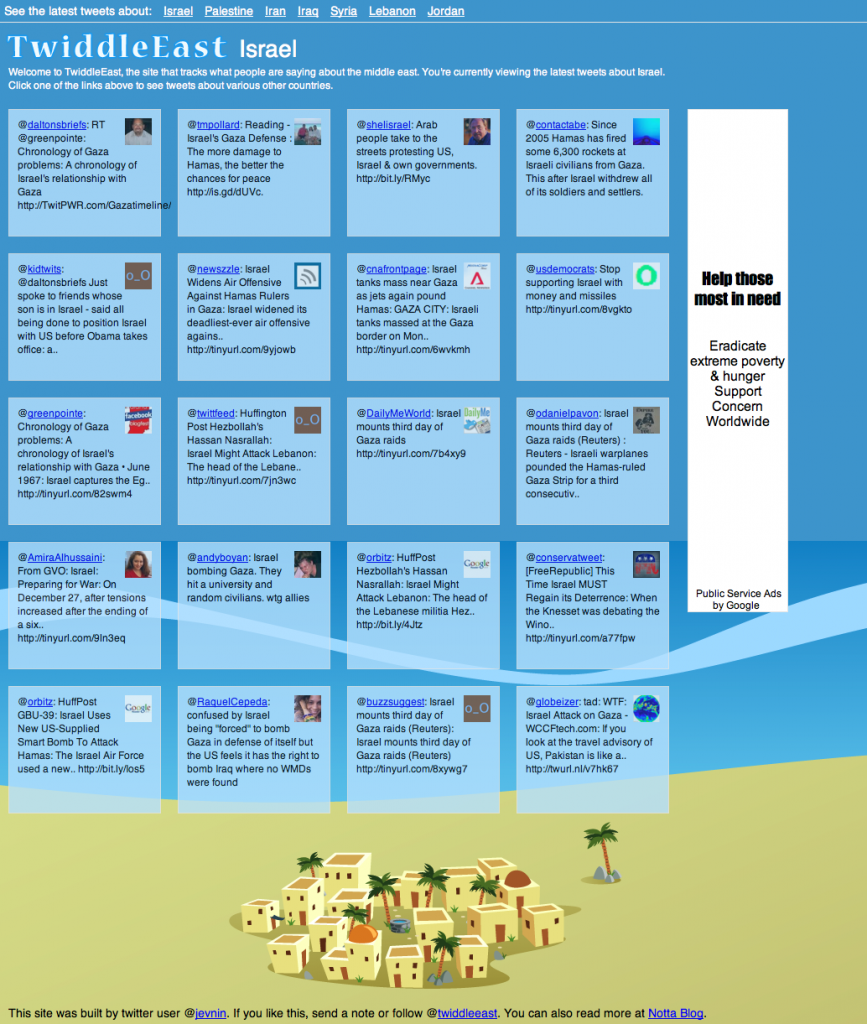 TwiddleEast allows you to quickly glance at what people on Twitter are saying about a few of the Middle Eastern countries in the news today.
Check it out, and I'd love to hear if it is helpful to you. If there is anything I can do to make TwiddleEast better, don't hesitate to let me know, and while you're at it: follow me or TwiddleEast on Twitter.